Football Practice Resumes at Nelson
Will there be a Friday Night rivalry on the field this week?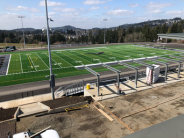 Just one day before Adrienne Nelson was scheduled to play Central Catholic under the lights, Nelson players and coaches had to go into COVID protocol and the game would be forfeited. Now, following four days after the announcement that Nelson had reported positive Covid test results, players are returning to practice.
Starting Quarterback Alex Nita and Safety Jack Caswell, when asked to comment on the return to practice, responded with confusion. Neither player could explain how the team is returning to practice so soon after the quarantine. Nelson High School Athletic Director Vicki Nelms stated that "we are following all of the district protocols. We have a district policy on what we are required to do…we are following all of the district protocols to ensure the safety of all our students, not just athletes."
Even with the reassurance from the athletic director that rules are being followed, there were no details released regarding what protocols were going to be in place with athletes wearing no masks during practice in a contact sport. There has been no confirmation that the game against Clackamas on Friday will happen. Students from both high schools are acknowledging there is a new rivalry this year with both teams after the opening of the new school. The Hawks hoped to get their first win against Clackamas but some players are voicing concerns about if and when the game will happen so soon after a quarantine that canceled last week's game for Nelson players. We will update this story when we receive more information about the game.