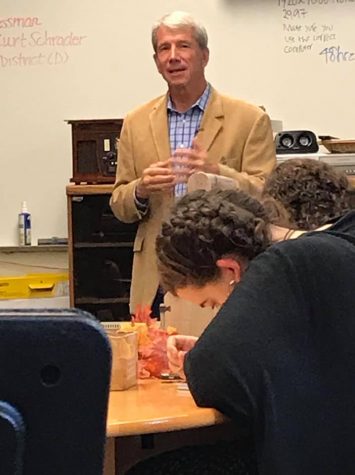 Phoenix Smith, Reporter
October 4, 2019
Kurt Schrader, has been the US Representative for Oregon's 5th congressional district for the past...
October 4, 2019
Governor Kate Brown has just issued a 180-day ban on all flavored e-cigarettes...
September 20, 2019
This morning at 10:30, an estimate of 1,500 students, mostly high school students...
June 18, 2019
It seems every intersection with a red light lies a beggar with a cardboard sign,...
May 28, 2019
North Clackamas School District is one of the greatest school districts around. It offers...
January 30, 2019
Body image has become a very touchy subject among teenagers and young adults. Even...
January 17, 2019
Many of the foreign exchange students at Milwaukie High School have put a tremendous...
December 11, 2018
The North Clackamas School District is a very good school district for kids to learn...
Caleb Hattori, Reporter
June 18, 2019
Portland has been thriving for years, with countless cars, bridges, and skyscrapers. One of the things...
April 22, 2019
2019 marks the 72nd anniversary of the all-star football game, the Les Schwab Bowl....
May 4, 2018
Over the years Oregon has never had an MLB team. A former Nike executive is connected...
April 11, 2018
The Clackamas Cavaliers varsity baseball team started the 2018 season with one win...
Advertise Your Business or Event Here