Pro-Choice Protests Flood The Front Doors At Clackamas And Adrienne Nelson High School
"If you don't make your voice heard, then nobody else will listen."
Protests were held at Clackamas and Adrienne Nelson High School on Thursday, May 13, as debate and backlash after a leaked memo uncovered the Supreme Court's consideration to overturn Roe v Wade sweeps the nation.
The crowd is filled with a diversity of students who hold up signs, vocalizing their opinions to each other and repeatedly chant "my body, my choice."
"Abortion is necessary for all people. Human rights are necessary for all people and I would really like to see people stand up for rights that even aren't their own," says a Clackamas high school student. "I see a lot of cis-white men in this crowd who are standing here, I see my brother here and it really means a lot to me, but I think we need to keep the fight going."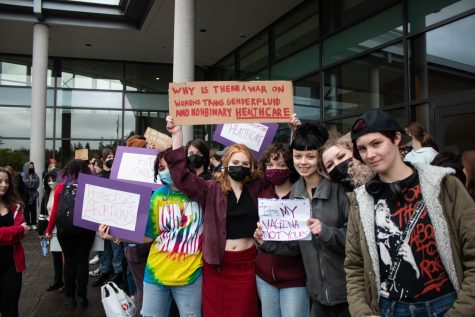 The crowd communicates their desire for the government to focus on "the actual problems in this country". Examples brought up include the economy, hyperinflation, mitigation of drug use, homelessness, oppression and the education system.
Clackamas high school student Sofi Diridoni–who made 20 posters to share with other protesters–encourages teenagers to donate to causes that assist the pro-choice movement, attend protests and rallies, find positions in local offices, vote, and support women around them who have had an abortion.
"If you're against an abortion, go for comprehensive sex ed. If you're against abortion, advocate for the rights of contraceptives to be put everywhere. If you're against abortion, support people in the foster care system," says another Clackamas high school student. "If you're against abortion, there are more things you can do to prove you're pro-life than denying people health care."