Mental Health Cannot Be Overlooked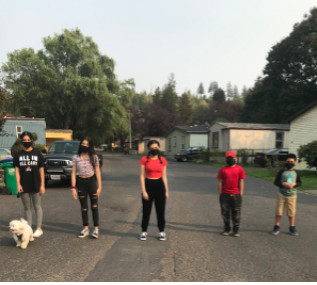 With the continuous amount of Covid cases rising in the US the use of masks has become a habit of many people ranging from adults to children. Throughout neighborhoods going on walks with masks has become the new normal. Seeing children playing outside with masks has also become the norm. The normalization of masks has taken full effect on children and teenagers. Now it is a staple in teenager's clothes while children have developed the habit of doing everything with them when they are not at home. So much that children are collectively forgetting the world before covid. These physical changes are altering children's worlds since in comparison to teenagers they have had very few experiences with the outside world before covid. Teenagers can still remember that masks were not worn during school, during parties, during recess, or any other outside activity. They are still awaiting the day life returns back to normal but to children, this is normal.
The world has adapted to living life with covid but the mental effects it might have on children have not been discussed. Currently in Oregon distance learning is in place to combat the spread of covid. Kindergarteners are doing online learning this is their first impression of what school life looks like. Yet all of the older kids know that school life does not look like being on a computer. First graders have a vague idea of how school life looks like due to their one year of school before covid but soon enough their memories of school will be filled with covid school life. The act of talking about life before covid is important for these children. People are focusing on a teenager's mental health since it has been a very vocal subject. Along with that, they should always remember to pay attention to children as well. Imagine the confusion of first graders when they got back to a school year that was not how their previous year went. Leaving children in the dark by accident will eventually leave a lot of uncertainty in their lives. Children's emotions are commonly overlooked since they cannot fully express themselves. Meaning that attention for both teenagers and children are needed.