Adrienne C. Nelson High School Swim Season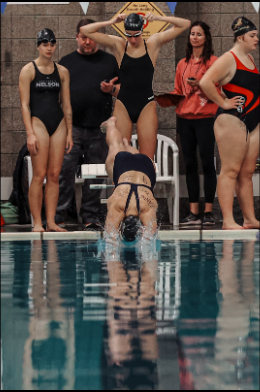 Among many other sports at Adrienne C. Nelson High School, some are more recognized than others, but every sport is just as important. This year the Nelson Hawks swim team had some great success in the water. Lillie Sorensen, a senior on the Nelson Hawks Girls team had quite a bit to say about how her season panned out. She said " At the start of the season I was just swimming for fun, and I didn't put a whole lot of effort in. I had to miss a lot of practice because I had band stuff, but at districts, I tried super hard and I ended up getting to state my mindset changed and I believed I could actually be successful so I put in a lot more effort and ended up getting into finals at state!"
"This season was the most memorable season I've ever had because I made it to state for the first time, which was a complete surprise, and today was prelims and I didn't expect to make it to finals because the top 9 make it to finals and my relay team was ranked 15th, but we managed to drop 6.5 seconds and we moved up to 9th place which led to state finals the next day" Lillie said. She also enjoys hanging out with her teammates a lot. Her favorite part about being on the team is cheering for her teammates. When she was a freshman, her upperclassmen friends were so supportive and they would cheer for her, and now she gets to be that person for the current freshmen.
This year the swim team had been extremely successful, especially the boy's team, all because of their amazing coaches. The team said their coaches pushed them to their fullest potential. Lillie said, "They're the best coaches I've ever had. They are supportive but also tell us how we can do better next time in an encouraging way. They explain the strategy behind swimming as well as making sure we're in the right mindset, which I discovered to be extremely important."
At districts, she had got a huge PR on her 500 free and when the time came for her relay she got another huge PR which sent them to state.
When asking Lillie how she found out she qualified for state, she said she was eating dinner with my family, and her friend had called her and told her that their relay made it to state. Lillie was very surprised because her relay team got 3rd at districts. With her knowledge from the past seasons, she thought only the 1st place team got to go to state, so this came as very surprising news.
For swimming, state is split into 2 days, the 1st day is prelims which has the top 18 teams, and finals are the following day, if you get top 9 in prelims make it to the finals. Lillie qualified for state in the 400 relay, which consists of 4 people each swimming 100.
She shared, "State was pretty fun, not as fun as districts because they play music at districts so everyone is dancing and singing, but at state, I just hung out with my friends until it was my event. I was a little nervous the whole time, until 2 events before my event then I started getting super nervous. I walked up to the block and I got so scared. My relay team was giving me a pep talk, and then it was my turn. She knew had to ignore all exhaustion and channel that into energy that would carry her to hit that last wall. Afterward, "one of my relay team members came up to me and told me we got to finals and I couldn't believe it! It was an amazing feeling," said Lillie.
As the 2022-2023 swim season had come to an end, the Nelson Hawks boy's swim team took home 2nd place in the state.
When asking Lillie what she wanted to leave her team and tell people who may want to join swim, she said, "I hope they keep the energy high. At the beginning of the season hardly anyone would cheer beside me, and I slowly encouraged them to cheer, so I hope they keep the enthusiasm next year. I also wrote our team cheer, which I'm pretty proud of."