Clackamas Cavaliers Move On To Semifinals Against Beaverton Beavers
The Clackamas Cavaliers girls' basketball team defeats the Lakeridge Pacers in the quarterfinals. They kept the lead throughout the game with a score of 28-8 after first period, 48-24 after second, 63-33 after third and claimed their victory at the end with 70-48. Students, cheerleaders and the pep band packed the stands with an uproar of spirit and the dance team performed during halftime.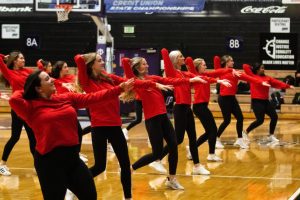 The Cavaliers will play the Beaverton Beavers in the semifinals at 6:30 PM on Friday, March 11, at University of Portland's Chiles Center. Fans must purchase a ticket online, show proof of vaccination or a negative COVID test within 72 hours and are encouraged to show up in support and to wear all black (no face paint allowed).