CHS Soccer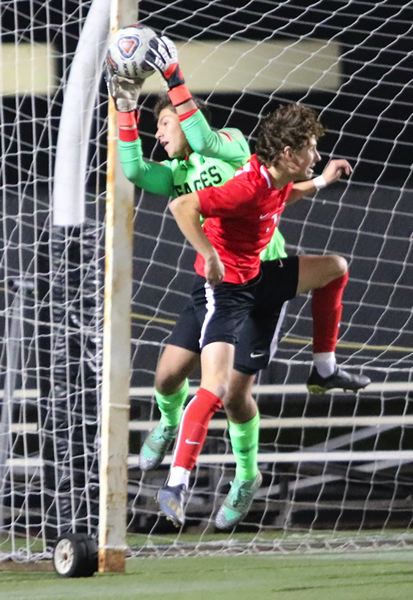 Grant Edgerly, Sports Editor
October 25, 2019
Hang on for a minute...we're trying to find some more stories you might like.
Clackamas Boys soccer team beat the number three team in the state Centennial on Wednesday night, October 12th. The score was 3-1. Brandon Farfan had a killer performance with two goals, including a free kick from 35 yards out. Cooper Sheakley added a goal and also had an assist on one of Farfan's goals. The soccer team is still undefeated with six wins and three ties. Two of the ties have been against Grant and Forest grove who are both considered a top 5 team in the state.
After the win, Junior Forward, Cooper Sheakley explained, "The biggest play for us that game was the goal in the first half, it definitely helped us later on in the game." The first goal gave Clackamas a slight advantage and set the tone for the rest of the game. Later on, in the 62nd minute, Andrew Huizar for Clackamas tackled Garcia for Centennial in the Penalty Box. This Penalty kick led to a Centennial score and the game was tied. Minutes later Farfan in the 65th minute hit the 35-yard free-kick that gave back Clackamas Lead. Cameron Gaines, Cavalier midfielder, said, " No one could believe the shot. We thought he was going to send it across, but he just decided to take it for himself and thankfully he did." That goal gave Clackamas the confidence they needed but it was still a one-score game.
Sheakley secured the lead later on with his Goal and the final score was 3-1. Tommy Faevstev, Junior Forward, described how hard they practiced for that game by saying, " We knew they were good and we played every practice as if it were a game. We're just happy to come out on top against a good team like that."
Clackamas is in preparation for Reynolds next week at 4 at Reynolds Stadium. Both teams are currently undefeated. Reynolds is ranked 2nd in the state and Clackamas 7th. "This was a great game to win, but now it's time to focus on our next big game against Reynolds." Sheakley on Reynolds next week, "They haven't lost yet and this game pretty much decides conference."