Clackamas High School Goes Into Shutdown
Students are safe and classes have resumed.
Update: NCSD Update Letter to CHS Parents
Dear CHS families,
Late this morning a student reported to a staff member at CHS that they had seen a social media post which showed an unknown student holding what appeared to be a firearm in a school restroom. Administrators contacted police, worked to assess the situation and initiated emergency protocols, which included placing the school in lockdown due to the possible threat within the building. Clackamas County Sheriff's Office responded and took three students into custody without incident.
Law enforcement recovered and identified the weapon as a realistic looking C02-powered replica pistol.
We want to thank the student who reported this to a staff member and allowed us to quickly respond and ensure students' safety.
When a school is in lockdown, law enforcement and school staff are completely focused on keeping students safe, so they are unable to respond to parents. Even following the lockdown, school staff are focused on supporting students, so we appreciate your patience and understanding while we follow our safety protocols.
Due to the proximity, Rock Creek Middle School was placed in a "secure" protocol, meaning outside doors were locked and classes inside proceeded as normal. No other schools were directly affected by the situation.
The safety of students and staff is our top priority, and we are also committed to keeping families informed in a timely manner during emergency situations. Staff worked this afternoon to help students debrief this event and are providing counseling support as needed. For more information on the district's safety protocols, please visit our website.
Thanks to the cooperation between the CHS administration and law enforcement, today's event ended without incident, all students and staff members are safe, and outside activities have resumed.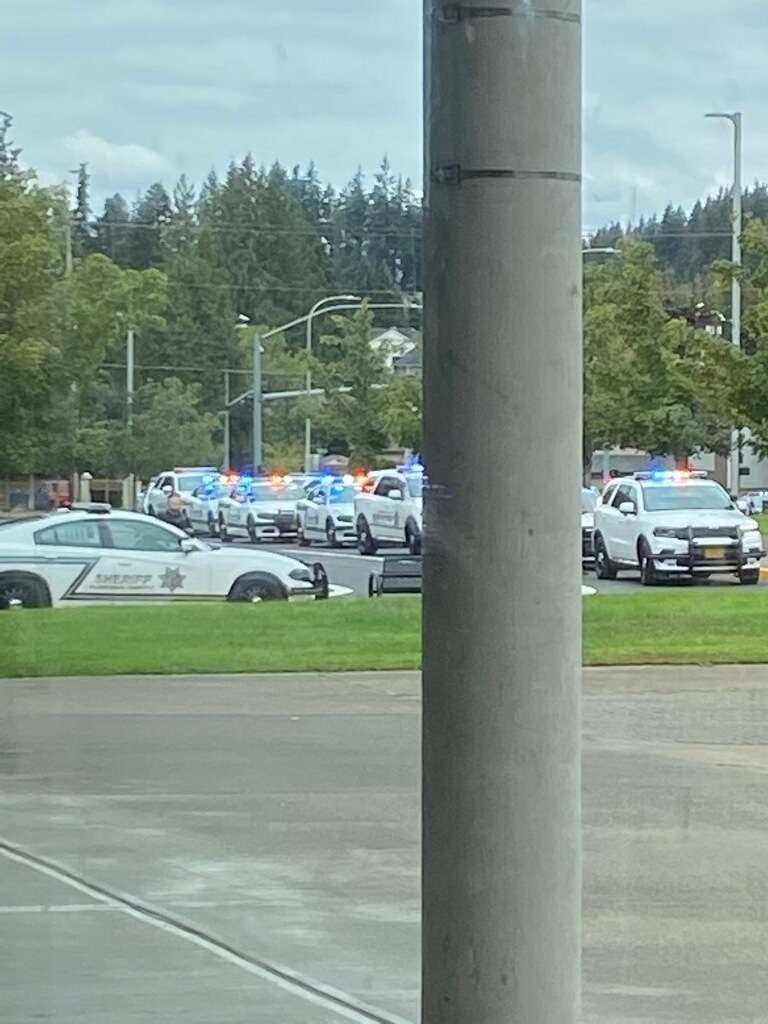 Link to the video allegedly from those involved in today's threat at CHS: https://www.instagram.com/p/Cik_vf9PBt2/
Students at CHS were forced into lockdown early Friday afternoon following reports of a possible student who may have been in the building with a weapon. Clackamas County law enforcement sent numerous officers to the school around 11:40. The lockdown ended shortly after noon and students were allowed to leave the building. Early reports from law enforcement indicate that three suspects were taken into custody at the school and a possible weapon was confiscated. No one was injured and police are still on the scene. Parents are arriving at the campus to pick up their students. Students at the option of either going back to their next period class or could go home. A video was posted of a male holding what appeared to be a gun in a restroom at CHS. The person was wearing a ski mask in the private video on Snapchat that apparently was then recorded and spread to other students who notified authorities. Early reports indicate the student was holding an air gun.
This story will be updated.