How the NCSD Levy will affect schools
Hang on for a minute...we're trying to find some more stories you might like.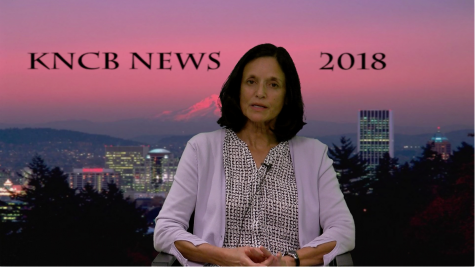 Mitzi Bauer in an interview with KNCB news on the Levy
This November, voters will decide on a number of important measures, such as The North Clackamas School District Option Levy, which collects money through a property tax intended to raise around 17 million dollars in the coming year alone (and a total of 97 million over the next five years) to make up for budget shortfalls.
The money that's collected under the levy is intended to cover many costs. In an interview with KNCB news, Mitzi Bauer, who is on the school board and raising awareness for the levy, says that "The money raised will just be and stay in our school district, and it's for operations." More specifically, according to North Clackamas Schools website, the money will be used for "Reducing class size, adding full time counselors and nurses, increasing school security measures, restoring some vocational career/technical programs, and restoring emergency reserves."
There are several reasons why the budget has failed to cover these costs, such as NCSD's PERS payment obligation, but ultimately, as Bauer puts it, "The state does not supply the needed revenue that we need to operate," and in an FAQ page regarding the levy, North Clackamas confirms that Oregon's K-12 budget has shrunk over the past twenty five years when adjusted for inflation. "In 2005, the percentage of the budget allocated to education was 45%; as of 2017, it's 39% (source: Legislative Fiscal Office). Nearly all local school funding comes from the state," the FAQ states. Indeed, it can be noted that Clackamas will be joining nineteen other Oregon school districts in seeking funding help from tax levies, should it pass.
What happens if the levy doesn't pass? Current budget forecasts call for several more cuts to cover the $17 million shortfalls. The district has already used one half of its emergency financial reserves to help cover the dwindling budget, along with other cost-saving measures, such as staff pay reduction. One of the currently proposed options would cut around 34 days of school. "It'd be rough…" says Todd Sholty, a teacher at Rex Putnam High School. "That's almost seven weeks of school. That would be devastating for kids trying to graduate, much less for kids interested in college after high school."
Alternatively, the district could make up for this gap by eliminating around 170 teaching positions, inflating class sizes drastically. On this, Sholty says, "Kids would get less attention. It would be easier for students to slip between the cracks and it would be that much harder for teachers to help them."
Of course, the levy is not free. As it draws on the Oregon property tax law to get its funding, this will mean taxpayers giving out an amount based on the assessed value of the property they own. Although according to Mitzi Bauer, this is not the only factor. "It's based on the gap between your market and your assessed value." This amounts to about $1.63 per $1,000 in value at most. The North Clackamas Schools website tells us that a home of around $221,800 would pay up to $30 a month. "I do think it's a lot [of money]," says John Kaczanowski, a local Milwaukie taxpayer and property owner. "But not necessarily for what it's going to. I definitely believe in kids getting a good education. A good education can only improve the community long term." John tells us that his home is valued at "around $158,000." This means, according to the calculations given, he would pay additionally about $21.50 a month. When asked if this money should have already been given to schools by state education funds, Kaczanowski responds: "I would say yes, but then… what other programs would be cut? They'd have to ask for even more stuff."
Ultimately, Kaczanowski says that "I don't think there's any better way for them to get the money."
Come election season, voters will have a lot to think about. There is no doubt that the NCSD levy if it passes or fails, will change the lives of students. Especially those looking to graduate on time and pursue college. It will also affect the lives of our taxpayers and their spendings. In explanation of her position on the levy, Mitzi Bauer gives us some final words on the levy. "It's an investment in our students," she says. "It's an investment in our future."