Fighting for Raiden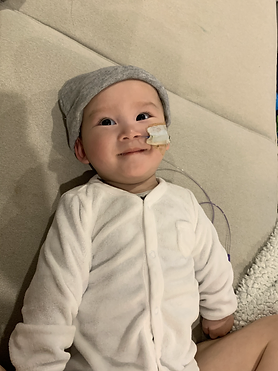 Clackamas High School has adopted a new cause called "Fight UBA-5" designed to help raise money for the Raiden Foundation. Raiden is a 2 year old boy who happens to be the younger relative of a student from Clackamas High School. Raiden was born on February 26th, 2020, in Portland, Oregon. When explaining his story, The Raiden Science Foundation stated that on the day of his birth, "With his arms flexing, he was ready to take on the world,"
UBA-5 is an incredibly rare disease that is caused by a mutation in the gene, with symptoms such as epileptic spasms, neurological impairments, uncontrollable movements, and a number of other things. Unfortunately, there is no cure for UBA-5 yet which is why this fundraiser is that much more important for the community Raiden and his family have rallied around them.
His relative shared his family's story with fellow members of the student council and within a matter of weeks the fundraiser was created. The fundraiser's proceeds will go directly to the Raiden foundation, a foundation set up by Raiden's family in hopes to find and fund a cure for UBA-5. When asked about how much they are hoping to raise for the Raiden foundation, Mrs. Klimek, the student council teacher from CHS said, " As much as humanly possible, at this point their goal is a million dollars". She later stated the foundation has raised around 350,000 dollars so far.
This Fundraiser started a few weeks ago and according to Mrs. Klimek will continue in many different forms until the end of the school year although you will still be able to go to the Raiden Science Foundation and donate to the cause personally after June 16th. So far the fundraiser has included a partnership with Mod Pizza where a percentage of their profit went to the Foundation. Later on there will be a partnership with Chipotle doing the same thing, so people in our community are encouraged to go to the local chipotle on May 11th to show their support. There will also be a car wash on May 23 and Clackamas has also partnered with Mr. Plywood so the students of CHS will be able to do community service and for every hour of community service that is completed Mr. Plywood has pledged to donate 5 dollars that will go directly to the Raiden Foundation. Mrs. Klimek stated "This is the time for us to all kind of band together, get out there and see how much money we can raise to help this family and other people who are going through this too." CHS welcomes you to come out and show your support in any way you can in hope to help the Raiden foundation as much as possible.